Our Package
---
We hold nothing back. We bring the entire party, bubbles, fog, lasers, and all the lighting.
We have no hidden costs or mileage fees.
We give you a price and that's it!
Here's our package – compare it with ANYONE!
An DJ/MC with years of experience


We play at your event as though there are potential clients in the audience.

Personal Planning and meeting prior to your event with 24-hour contact


You get 2 phone numbers, text, email, & a planner web-page.

Our Hi-Tech Professional Sound System


Including Laptops, Hard Drives, & Commercial Bose speakers!

Sonic Multi LED & LASER Light show


NO (Halogen) duty cycle. They're on ALL NIGHT BABY!

Wireless Microphones for your toasts


No accidental unplugs or cords to trip over.

HI-Motion-Lighting (*may be restricted by venue)


We create the ambiance you want to your event.

The EXCLUSIVE T.A.Z.E. Music Factory Wedding Planner (unlocked upon booking)


The peace of mind that you're not forgetting anything when it comes to your reception!

Extra entertainment (outside of regular wedding planner outline)
includes our rendition of The Shoe Game and Dollar Dash.
Uplighting Add-On
---
Our Unique Laser & LED light show is already part of your special day and that show alone cannot be matched by other DJ companies. However, You may want to consider adding our spectacular "Uplighting Package."
Uplighting will TOTALLY upgrade the mood at your reception 100%.
Take a look at the pictures with this package, you will not be obligated to the bright florescent lights the facility has and you will rely on softer uplighting around the perimeter of the banquet hall.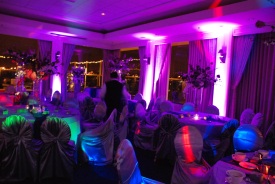 An additional $225 and you get:
12 - LED Uplighting Fixtures
*Note: This package cannot be separated.
You may not wish to use all the lighting fixtures, but the add-on price remains the same.
Why is it so important to emphasize equipment? T.A.Z.E. spent over $5,000 in 2017 alone upgrading our light show (on all systems) to LED and LASER. Not just because it is more spectacular and mesmerizing, but because it has no duty cycle. In other words, unlike halogen lights which get too hot, we can turn our LED/Lasers on and leave them on all night.